Winner of Several Prestige Awards
that celebrate the finest creative work in the world
Winner of Several Prestige Awards
that celebrate the finest creative work in the world

The "D-Show" Award
– Website design for "Warrior"
The Adcraft Club of Detroit recognized the best work in the region's advertising industry. Creative, media, entertainment and production communities celebrate the "Best of the Best" of Creative Work of the World's Best Advertising Agencies.
The OMMA Award
– Online Media Widget for "Sync"
The OMMA Awards were created in 2004 to honor agencies and advertisers that push the potential of digital advertising. OMMA stands for Online Marketing Media and Advertising (…see more)
My creative work was featured in magazines like Advanced Photoshop (GB), Layers (USA), OverRated Magazine (L.A., Miami), @313Now (Detroit) and many others. I've had many TV, radio and press interviews regarding my design as well as my music (including my bands, TV & film music, and music for other artists I've done). I have exhibited my traditional artwork in European and the US galleries, while touring with my bands and writing music for film, TV and other artists. Independent films I've made were selected (and won awards) on different International film festivals.
GTB (Global Team Blue), ex. Team Detroit – The Advertising Agency by WPP was established by merging of Oglivy, J. Walther Thompson, Wunderman and  Y&R. It's main clients are Ford and Lincoln (web, print, broadcast, online media, tiers 1, 2 and 3), but there are many other accounts, like Warrior sports, Scotts, Bosch, Purina, etc. (We also had Mercury automotive, but the brand got discontinued a few years back). This is the place where I've worked for 10 years, from 2007 to 2017, after leaving Campbell Ewald and their (lost by now) Chevy account. 
Awards and Recognitions:
Featured in dozens of magazine articles, radio and TV interviews, few cover page photos.

International Music Festival "Forte98" Audience Award – AXA – "Stay Sleepless",1998

MEMOREX design award, BEST CD COVER DESIGN, May 2000

WEBSITE OF THE MONTH – "HARISCIZMIC.COM" Awwwards, 2002

HARD ROCK'S "AMBASSADORS OF ROCK", PRESTIGE MUSIC AWARD – 2009 – "INGRAY"

OMMA online media award – DESIGN TEAM "Sync", 2009

D-Show Award -DESIGN, ANIMATION, SOUND – "Warrior", 2010

Official Selection on Cannes Festival – Ford Mustang Video 2010

AUDIENCE AWARD, FERNDALE FILM FESTIVAL, 2011 – Best Short Film "One Last Call"

F3 Film festival for Best Alternative Fantasy for "One Last Call", 2011

Music videos aired on MTV (UK), many European TV channels (1996-2008), Chiller TV (2013), music aired on dozens of radio stations in Europe and the US including 101 WRIF, 89X, etc.

4 out of 10 "Best Design Poster Templates" on Tripwire Magazine list, 2011

ELITE status on Envato Marketplace, Melbourne Australia 2012

Featured in Advanced Photoshop Magazine, England 2013

Hit 50 Mil Impression Mark- 2016 Lincoln MKC Homepage Takeovers 2016

Awarded with over a dozen professional Certificates (design, technology, language…)

Included in "The Best Of" by ElegantThemes.com (for a wordpress child theme creation), 2017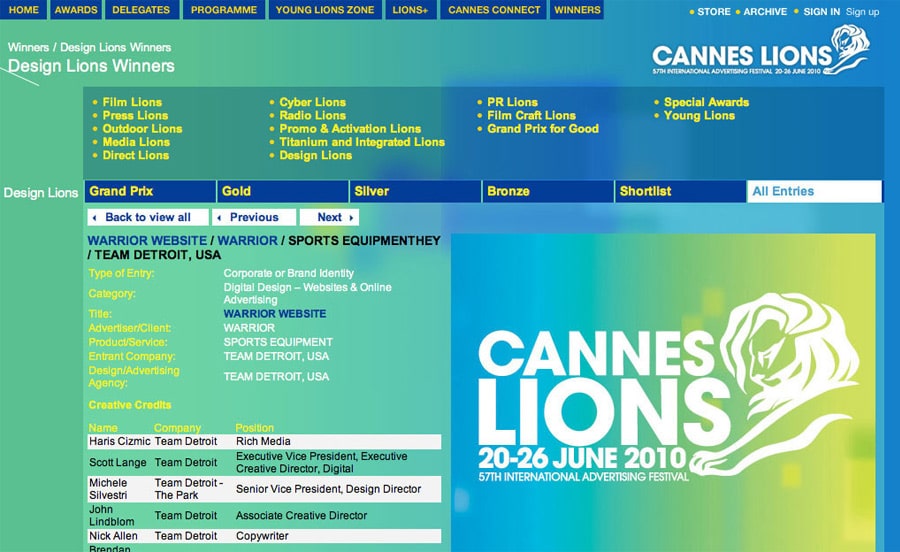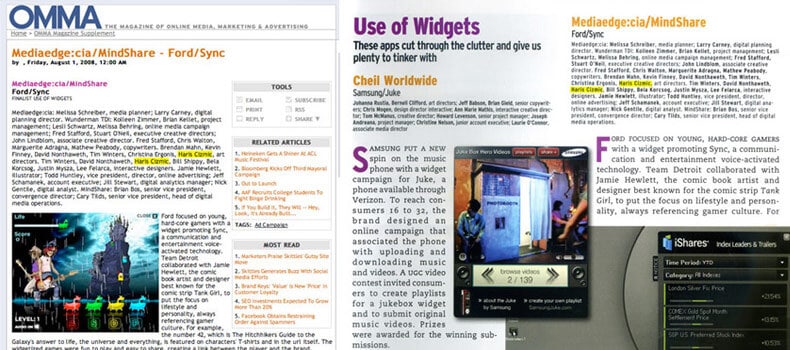 Discography:
 D.throne – (Demo -1991)

MackoFlack (Face in dust – EP – 1995)
Therion (Therion – single – 1996)
AXA (Divlja Ruza – single – 1996)
AXA (Budi Bez Sna – International Festival Forte 98 – 1998)
AXA (Rusis Mi Sve – International Festival Forte 99 – 1999)
AXA (CD Therion Confidential – 1999)
Haris Cizmic (CD Pandemonium – Instrumental – 1999)
AXA (The Other Side – EP – 2000)
AXA (Budi Uvijek Sam – single – 1996)
AXA (Multimedial – 2001)
AXA (CD Therion Confidential – remastered for the US – 2004)
AXA (Good Girl – 7 song EP – 2005)
Haris C – (Appearance on "Kill The King" from "Let Us Prey" – Spyderbaby 2006)
INGRAY (Scream – single – 2008)
INGRAY (Killing Time – single – 2008)
INGRAY (Overload – Tea Party Cover (did not make cut on CD Away) – single – 2008)
INGRAY (Jolene – Dolly Parton Cover (did not make cut on CD Away) – single – 2008)
INGRAY (East Side Story – Bob Seger Cover (also on CD Away) – single – 2009)
INGRAY (Paint it Black – Rolling Sones Cover (also on CD Away as "Scarlet") – single – 2009)
INGRAY (CD Away – 2009)
INGRAY (Faceless – single – 2009)
INGRAY (Winner – Hard Rock's Ambassadors of Rock – Live Album – 2009)
INGRAY (Sarajevo – single – 2010)
INGRAY (Beautiful Lies – single – 2010)
INGRAY (Return of Immigrants – single – 2010)
INGRAY (Don Was's Concert Of Colors – Detroit – 2010)
Haris Cizmic feat. Rocquel Wallace  (One Last Call – single – 2011)
Haris Cizmic (One Last Call – Motion Picture Soundtrack – 2012)
Haris Cizmic (In My Veins – Single – 2012)
Haris Cizmic (Honeythief – a Halou cover – single – 2013)
Haris Cizmic feat. Tiffany Marie  (Graveland – a 69 Eyes Cover – single – 2014)
Haris Cizmic (2 CD's – The Worst Of – First 20 Years – 2015)
Haris Cizmic feat. Aleksandra C (Breathe In Water – an Indigo Dying cover –  Single – 2016)
…and was featured on many compilation albums published worldwide. This music is available on iTunes, Amazon, Pandora, Apple Music, Spotify and other media outlets. It's also available from HERE